In September 2010, H.H. Pope Benedict XVI left for a visit to Great Britain. He arrived at Edinburgh Airport on 16 Sept 2010.
In the honour of his visit, the American Matthew Newsome, director of Scottish Tartan Museum, Franklin, North Carolina, designed an exclusive tartan for him. The dedication of a special tartan to a person other than a Scotsman is a great honour.
The tartan was weaved by Ingles Buchan Mercat Building, 26 Gallowgate, Glasgow, G1 5AB, Scotland, United Kingdom.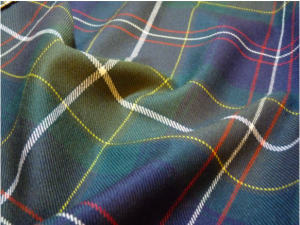 In the tartan, a white line on a blue field takes in Scotland's national colors, while the green reflects the color of lichens on the stones of Whithorn in Galloway where St Ninian — Scotland's first saint — landed to bring the Gospel to the country over 1,600 years ago.
A white line with two red lines reflect the colors of the crest of England's Cardinal Newman, due to be beatified by
Pope Benedict XVI on September 19, 2010 in London, while a yellow line with the white mark the colors of the Vatican.
In terms of weaving, each white line on the green contains exactly eight threads, one for each Catholic diocese in Scotland. There are then 452 threads in the design from pivot to pivot, representing the numbers of Catholic parishes.
For his visit, his Scottish hosts had also created an exclusive procession, the so-called Parade of Saint Ninian.
Made into a scarf, the tartan was wrapped around the Pope's shoulders by Cardinal Keith O'Brien of St Andrews, Edinburgh, when the Pope mounted his vehicle after his encounter with Elizabeth II.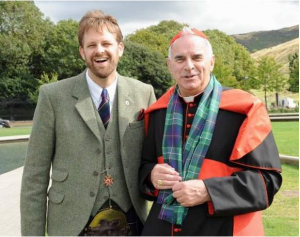 (Matthew Newsome and Kardinal Keith O'Brien with a scarf made from the new St Ninian Tartan  © Foto: Paul McSherry)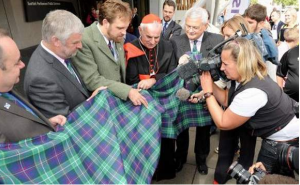 ( Matthew Newsome together with members of the Scottish Parliament and Cardinal Keith O'Brien  © Foto: Paul McSherry)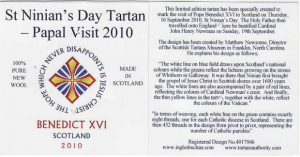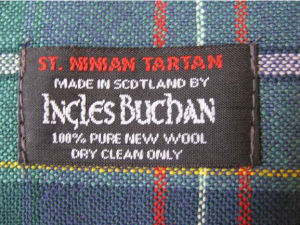 Sources:
Ian MacKenzie: Pope sports Scottish tartan created by American
Scottish Tartan Designed to Mark Papal Visit
Matthew A. C. Newsome: St. Ninian tartan created to honor Papal Visit to Scotland